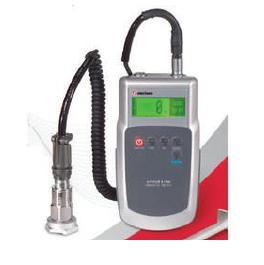 vPod Vibration Meter Variants
Product Description
vPod Vibration Meter
We are offering a wide range of vPod Vibration Meter to our valuable clients. In addition, clients can get the vPod Vibration Meter from us at industry leading rates. The vPod ll can download a pre-defined measurement route for mass data collection. The built-in review mode of the vPod ll shows the stored data. The patented G-Spike™ enables you to quickly connect to the detection probe.

Features:
· SMD (surface mount) production
· Battery charge indicator
· Input bias indicator
· Backlit, high resolution LCD display
· Average, peak hold and freeze modes
· Selectable gain
Specifications:
· Memory for storing up to 1,000 data
· Review data mode
· RS-232C interface
· Route-Based collection
Bearing Condition Assessment
Each vPod and vPod II can measure vibration levels in acceleration, velocity or displacement. The vPod and vPod II comes standard with a built-in 500 Hz high pass filter. This is significant because most roller element bearings' parts are located between 500 Hz - 2 kHz. This high pass filter method has been proven to be very useful in identifying a bearing's condition.
PDM Software can be taken from Manufacturer Website
Trendex software coupled with the v-Pod II is a cost-effective solution to your management of machine health condition. Until now, most solutions required very expensive analyzers and software analysis programs that collected more data than was necessary for most basic predictive maintenance projects.
Trendex is setting the new standard in route collection asset management. With simple to use one-click reports, downloading pre-defined routes, trending and alarm analysis. Trendex provides a very cost-effective strategy to your data collection needs.
· Scheduled Measurement:- With Trendex, you can easily download predefined routes.
· Trending and Alarm Analysis:- With Trendex, easily review and display trending plots showing the history of vibration and alarm conditions as well as a percentage of change.
· Automatic Reports:- With Trendex, you can build a custom report for simple one click reports.
Trade Information
500-1000 Per Month

30 Days