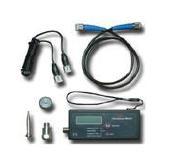 Vibration Meter 908
Product Description
Vibration Meter 908
Features:


· Measuring vibration velocity, displacement and acceleration.
· Small size, transducer included, battery powered, no other component required.
· Optional for inner or external Accelerometer.
· One button control both power and measurement.
Specifications:
· 3 1/2 LCD digital display, sampling per second.
· Suitable for monitoring machinery vibration caused by out-of-balance, misalignment, gear damage, bearing faults and etc.
· Amplitude Ranges: Displacement: 1-1999 μm (or 200 mil)
· Peak to peak Velocity: 0.1-199.9 mm/s (or 20 in/s)
· True RMS Acceleration: 0.1-199.9 m/s2 (or 20 g) Peak
· Overall accuracy: +5%
· Temperature range: 0 - 50 0C
· Displacement: 10-500Hz
· Velocity: 10-1000Hz
· Acceleration: 10-1000Hz (Inner accelerometer 908B)10-10000Hz (Depending on external accelerometer model)
· Battery: 9V
· Dimensions: 13×6×2.3 cm; Weight: 200 g
Trade Information
500-1000 Per Month

30 Days