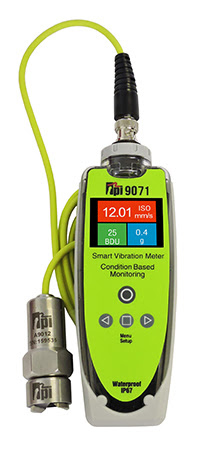 Bearing Damage detection 9071
Product Description
Bearing Damage Detection 9071
9071 is a simple, easy to use, low cost vibration meter. Record, analyse and display vibration signals at the push of a button.
· Analyses interprets readings
· Give clear picture of machine problems: detects imbalance, misalignment and looseness.
· Built-in ISO Alarms
· Find machine faults before they stop your machine
· Increase productivity and lower maintenance costs
· Full Color LED Display
· Collect and store test data
· Standard Cable mounted accelerometer with magnet
· ISO built-in Alarms
· Easily identify bearing problems with BDU Reading
· Easily identify problems with built-in band filters:
1X (unbalance)
2X (misalignment)
3X (looseness)
· 800 line FFT (spectrum)
· Ruggedized IP67 case
· Storage space of 10 memory blocks with 20 readings per block available.
· Stored readings can be displayed for analysis.
Trade Information
500-1000 Per Month

30 Days