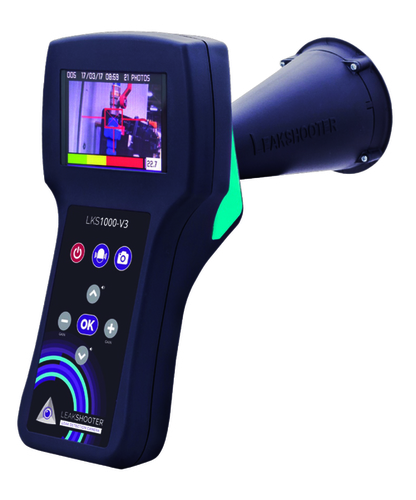 Air LeakShooter V31000 with Stream Trap Diagnostic
Product Description
Ultrasonic compressed air, steam & vacuum leak detector with camera
LEAKSHOOTER LKS1000-V3 is a unique and sensational detection device:
- It uses a camera and a dynamic on screen target to precisely find leak location (patent).
- It features a new concept of Steam Trap diagnostic: The STRAPSHOOTER.
It is a sophisticated tool. Extremely sensitive, it is capable of finding all leaks, even the smallest, including those no bigger than the size of a syringe needle, at a distance of 15 metres. Leaks can be detected in all types of industrial environment thanks to the possibility of adjusting the gain on the device to filter out all undesirable noise.
Photo captured by it can be numbered, dated and timed and shows the dB RMS level of the leak. The photos can be uploaded directly onto a PC via a USB cable
LEAKSHOOTER LKS1000-V3 uses:
- Ultrasonic contact probe to analyze the Steam Trap working progress
- Embedded infrared pyrometer to measure the pipe T° IN & T° OUT
- STRAPSHOOTER® program to see, hear, analyze and report the Steam Trap condition state
- Embedded camera to take the Steam Trap picture for reporting
Specifications

Sensitivity

Detects a leak of 0.1 mm at 3 bars at 20 m

Camera

Colour 640 x 480 pixels

Display

LCD colour 3,5" 320 x 240 pixels

Pictures

BMP, number, date and time

Dynamic Target

Red square with cross on strong leak

Yellow square with cross on light leak

Measurements

dB RMS and MAX RMS

Program

Airborne leak detection & steam trap analyzer

Memory

Up to 1000 pictures, can be uploaded to PC

Communication

USB cable supplied

US Sensor

Open type - Bandwidth ± 2 kHz to - 6 dB - Central frequency 40 kHz ± 1 kHz - Adjustable frequency mixer from 34 to 46 kH -

Adjustable gain from 50 to 110 dB

T0 sensor

Infrared embedded pyrometer (0-2500C)

Headphones

Adjustable volume from 0 to 10

Power supply

Lithium-ion rechargeable battery

Autonomy

+6 hours

Temperature Range

-10°C to + 50°C

Dimensions

H : 230 mm - W : 100 mm - D : 70 mm

Weight

580 gr for the LKS1000

6 kg including ABS case

CE Standards

CEM 2004/108/CE : EN61000-6-4 & EN61000-6-2
Trade Information
500-1000 Per Month

30 Days